i replied!! and pssst, its supposed to be ps not pms. :p
Heart of Courage -- Two Steps From Hell
Most people on OMD call me Amary, Malu calls me Seagull, and Bloody, Darky and Angel call me Pink Penguin! Most of the time you'll find me RPing on the boards, and playing games on it. So if you want to be my friend, just look for me there, or send me loads of pms!! I don't speak French, I only speak English, Dhivehi, Turkish, Japanese and a bit of Russian. But my preferred language is English and sometimes Turkish. My birthday is on the 28th of September.
Most of you would know by now that I'm an avid writer. I have published most of my short stories on a site called Figment, and now I'm working on my first sci-fi novel during NaNoWriMo. NaNoWriMo is an annual novel writing month starting from November 1st to 30th, as a writing challenge to anyone having trouble finishing their novels.
NOTE: I'm always looking for more DVers, so don't hesitate to ask me, or recommend me some who are willing to DV with me!
If you aren't a daily voter of mine and leave me votes, ask for me to vote back, I will try to vote back with one of my alts~~













All of my alts speak for themselves. They are all made in tribute to either my OCs, or my favorite characters from shows/animations/movies.
Amaryllis-Leightley|Ayana-Bayo|Aqua-De-Veta|Camilla-Belle|Cathy-Logan|Gossip-Girs|Gryffindor-Ftw|Luccielle|Pretty-Liars|Queen-Of-Hearts|Roxalia|Royal-Goth|Steele-Sisters|Zoye-Descourdes|90210-Silver|

I have joined a lot of clubs this month, and have been in some for over an year. You can find them on the Board under the tab "Dollz Clubs and Contests"
~POTTERMORE; A Place For All The Potterheads And Fanatics
~Kawaiisa Academy
~Monster University; We Scare Because We Care
~Princess Academy
~Animaniacs Club
~DarkElfQueen Is The Best!
~Camp Olympus
~FAMOUS
~Hogwarts
If I were to list down all the books I have read, it would take about an year or so to put them all down here. So I'm going to just list the ones that I really really love, because..
J.K. Rowling
; Harry Potter series(all), The Casual Vacancy
Cas.sandra Clare
; The Infernal Devices(1&2)
Suzanne Collins
; The Hunger Games Trilogy(all)
Meg Cabot

; The Princess Diaries(all), The Mediator series(all), Size Doesn't Matter, Airhead (2)


Danielle Steele

; Sisters, Daddy, Heart Of Gold


Sophie Kinsella

; Shopaholic Series (1&3)

Dave
; The Lost Boy(2)
Charles Di.ckens
; The Secret Garden, A Little Princess
Charlotte Bronte
; Jane Eyre
Kami Garcia
; Beautiful Creatures(1&2)
Brothers Grimm
; The Complete Collection of Grimm Household Fairy Tales and Legends
Veronica Roth

;
Divergent(1&2)
Lissa Price
; Starters
Phillip Pulhom
; His Dark Materials(1,2&3)
Inkheart(1&2)
Kenneth Grahame
; The Wind in the Willows
Becca Fitzpatrick
; Hush, Hush saga(1&2. 3 in prog)
Rick Riordan
; Percy Jackson and the Olympians(all), Heroes of Olympus(1,2,3, 4 in prog)
....
And many more!
KEYS:~ |
Peach on text; Inappropriate themes for under 13,

*;

Only Manga,

!;

Both manga and Anime,

#;

Only Anime/Show|
~

*Junjou Romantica
~

#

Ouran Highschool Host Club
~

#

Fullmetal Alchemist Brotherhood
~

#

Dance in the vampire bund

Thankyou

Malu

for the chibi doll, heart-shaped mirror and edited pictures that I don't have anymore. Thankyou

Faechild86

for the reindeer horns, the oueija board and blue sweater. Thankyou

Zooey900

for the school books for my alt gryffindor-ftw. Thankyou

Arlekinlain

for the chibi sun. Thankyou

Keiramarina

for the blue plush bunny. Thankyou

Jazz333

for the swan figurine. Thankyou

Bloodyemos

for the heart-shaped mirror and the blingee of my doll. Thankyou

Anyamalfoy

for the Libra sign. Thankyou

Ribbonheart

for the zombie chibi. Thankyou

Adrlynne

for the chibi ghost. Thankyou

Darkelfqueen

for the chibi bat.
If I missed any, please don't hesitate to correct me!
Thankyou

Shadowchild3

for this amazing layout, the Fiolee avatar to go with my sig, and also for the equally amazing layout you made for my alt amaryllis-leightley.
Thankyou

Fasionstar

for the edited pic of my entry for your 2012 seven sins contest.
Thankyou

Angelfire

for the amazing Rumbelle av&sig and this present for my birthday. (It has text on it's right saying "Happy Birthday Amary from Angelfire" but you can't really see it because it's in black.)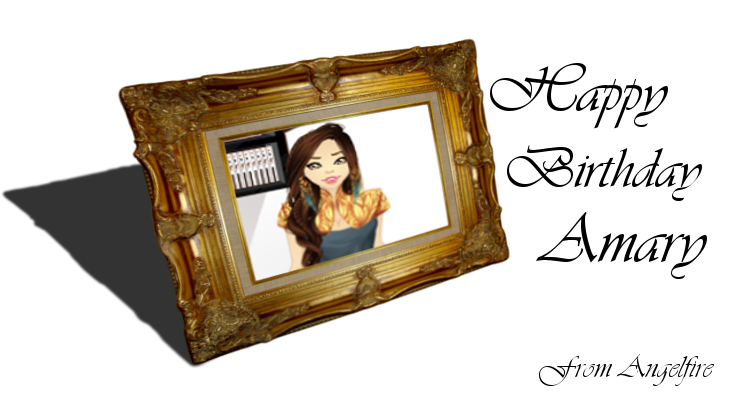 Thankyou

3noody-chan

to this very cute chibi of myself! This is literally me every day.


Thankyou

Fairykisses

for the Zeki av&sig, the pink backpack, two-toned wig for my alt roxalia and this amazing Collage of my doll.


Thankyou

Saffirelle

for these certificates;


I'm everywhere, so you are more likely to find me on(excluding OMD) Facebook, Twitter, Babydow, and Tumblr.
Find me on tumblr here >> http://thedarkwarlock.tumblr.com/
I'm also a writer, you can look up my works here >> http://figment.com/users/292600-Sasha-Myron-


I guess I'll post my ships here. :D




KEYS:~ |

Pinkontext

are OTPs|

Peachontext

are OC(own character)s|


Rumbelle




Fiolee




Spoby




Ezria




Klaine




Finchel




Dramione




Fremione




Tomione(I basically ship Hermione with everyone except Harry)




Chair


Latsu
Bubbline
Gumline
Eli Lieb x that-dude-in-his-Young-Love-vid
Camilcent
Chaye
Barrien
Zeki
Dantesers
S

h

a

y

l

o

r
Caleo


....




There's probably more, But I'll list them here later. :D