Update: 2nd June 2012
A quick update for those lovely dolls who are still dropping by to leave me daily votes:
I'm so very sorry I haven't been able to return them. Just over a month ago my dad p***ed away after a two year battle with colon/liver cancer. My entire world has fallen apart and, at the moment, I just can't spend enough time on OMD to vote for all you wonderful people.
I'm starting to feel better about things, but the loss has hit me extremely hard so it might be a while until I'm back to normal.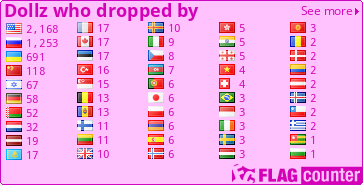 A Little About Me!
I'm English (I own a bowler hat -and- I drink a lot of tea) but I live here in beautiful Southern Norway with my husband and son. I've lived in Norway for just over a year, and I like it very much so far. The scenery is simply breathtaking and it's so quiet!
In England, we had a little brick house just five minutes walk from a major Northern city. This meant it was always busy, always noisy. When we moved to Norway we bought a little wood house with a huge deck to two sides and beyond that just trees and rocks. It's so quiet here that on my second night I was woken up by an owl screeching. An owl! I'm a city girl, I had no idea what it was! Now, after almost twelve months of quiet, I'm more used to it. The crickets don't bother me like they used to and I've grown used to the general wildlife. We have a woodpecker who visits regularly and a number of other types of bird.
I'm doing my best to learn Norwegian, and I'm not doing too badly! Most of my vocabulary is centered around our son, though, so I know a lot of sentences to do with not touching something, not climbing on something or asking about poop. Useful, I know!
We have two cats, both rescues, called Magpie (for my home-town football team) and Lily. They're complete opposites, personality wise, but get along very well.