I WANT TO THANK ALL OF MY FRIENDS FOR THE GIFTS, FOR WEARING GREEN, FOR THE BALLOONS, PRESENTS AND TEDDY BEAR PARTIES AND FOR ALL THE BIRTHDAY CARDS AND BIRTHDAY WISHES! YOU ARE WONDERFUL FRIENDS AND I LOVE YOU ALL!
HAPPY BIRTHDAY XGEGEX0925
1 DAY UNTIL MY BIRTHDAY!
MY BIRTHDAY IS SEPTEMBER 25TH
UPDATE: AMY'S PLATELETS WENT UP TO 81,000 ....AMY WILL NOT BE COMING HOME FOR A FEW DAYS YET....THIS IS A VERY RARE BLOOD DISEASE AND THE HEMOTOLOGIST HAS ONLY SEEN 1 OTHER CASE! THEY HAVE DECIDED TO PUT A PORT BACK IN HER AND DRAIN OUT HER BLOOD AND STRAIN OUT THE IMPURITIES AND PUT THE BLOOD BACK IN HER...THEY ARE GOING TO TRY THIS FOR 4 OR 5 DAYS! A GROUP OF DOCTORS ARE CONFERRING ON THIS...AND WITH DOCTORS FROM OTHER HOSPITALS IN OTHER CITIES IN OTHER STATES! PLEASE PRAY FOR AMY AND HER DOCTORS SO THEY WILL BE ABLE TO HEAL HER OF THIS RARE BLOOD DISEASE!
THANK YOU TO ALL MY FRIENDS WHO ARE PRAYING FOR MY DAUGHTER TO GET WELL!
Joyce prayers for your daughter & all your family...
THANK YOU JEANNIE (WITCH2004)
MY OTHER DOLLS


FRIENDS....PLEASE KEEP MY LIFETIME VOTES EVEN! THANK YOU!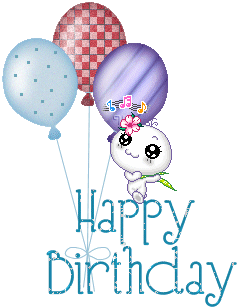 THANK YOU PINKPOODLE
THANK YOU EUPHRAXIA
Happy Birthday Joyce/Joyceeileen~!! May this be the best one yet~! Love, Becky xoxo
THANK YOU BECKY (C00KIESEZ)
Happy Birthday Joyceeileen!
THANK YOU SARAH (SIERRADANE)
THANK YOU JEANNIE (WITCH2004)
THANK YOU SWEETTEARS90
THANK YOU SAPHIE1
THANK YOU HOPE4EVER2
Happy Birthday Joyce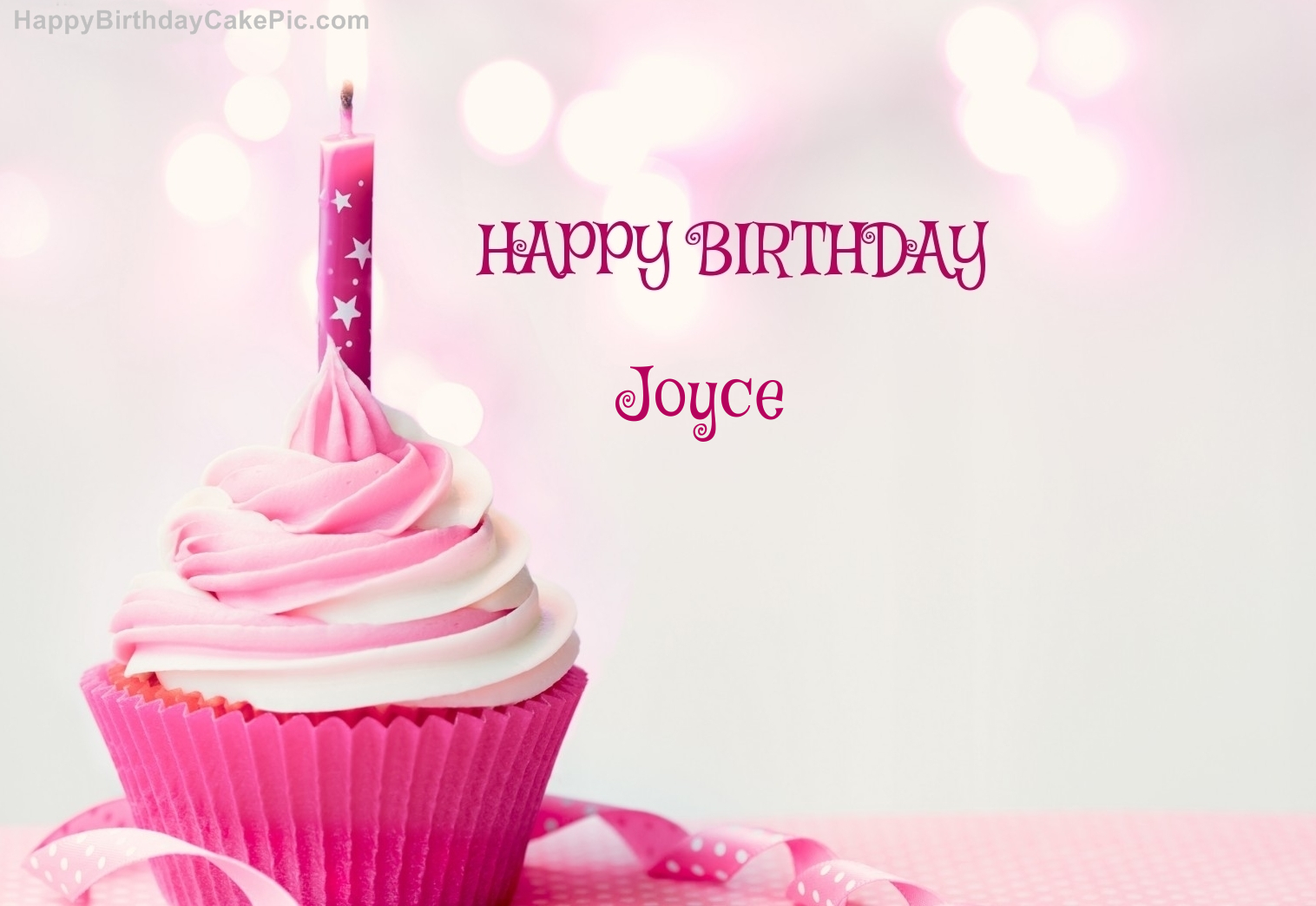 THANK YOU ILOVEANGEL
Happy Birthday Joyceeileen!
THANK YOU COCOBERRY
Happy Birthday Joyceeileen!
THANK YOU TUVAB
THANK YOU C00KIESEZ! IT'S JUST WHAT I NEEDED!
Thank you Sparkle4ever!
THE JOY OF READING
IS A BLESSING FOREVER,
F0R THROUGH GOOD BOOKS,
THE IMAGINATION IS ENLIVENED,
WISDOM IS GAINED,
AND WONDROUS EXPERIENCES
BRING NEW FASCINATION TO LIFE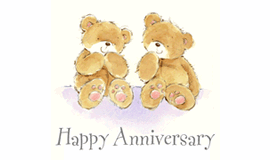 Thank you Jenzg11
Thank you c00kiesez!
Thank you witch2004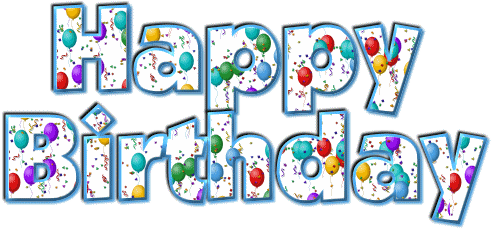 Thank you romi2000
THANK YOU SIERRADANE!
Thank you sierradane
THANK YOU VANILLACUPCAKE
THANK YOU FAIRYKISSES!
THANK YOU SIERRADANE FOR THESE CUTE TEDDYBEAR BIRTHDAY GREETINGS!
THANK YOU FOR THE BEARS BEARRYDANE
THANK YOU C00KIESEZ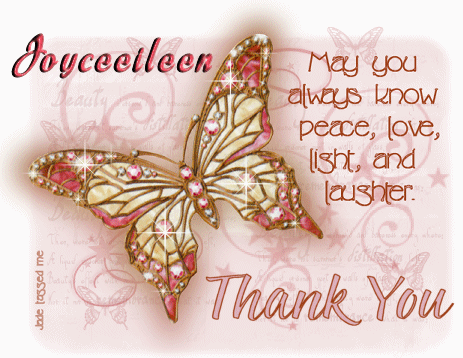 Thank you ClaudiaFaith
THANK YOU LILYSUMMERS! I LOVE IT!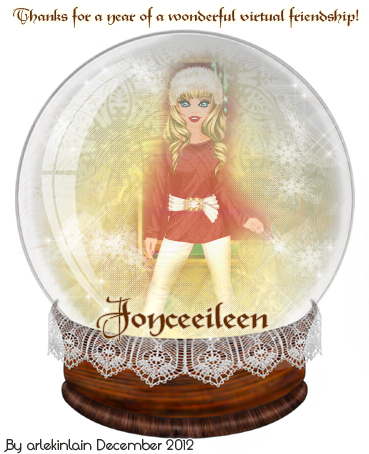 Thank you arlekinlain! I love it!
Thank you leria....this is awesome!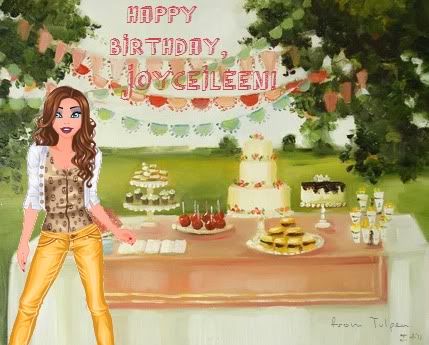 Thank you tulpen, very nice!
Thank you Becky....you are such a dear sweet friend!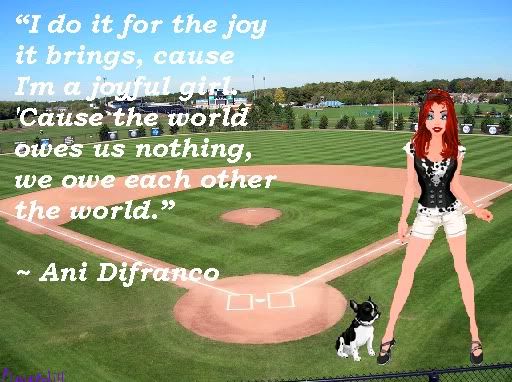 Thank you Faechild86....I should have had blond hair to look like my granddaughter!!