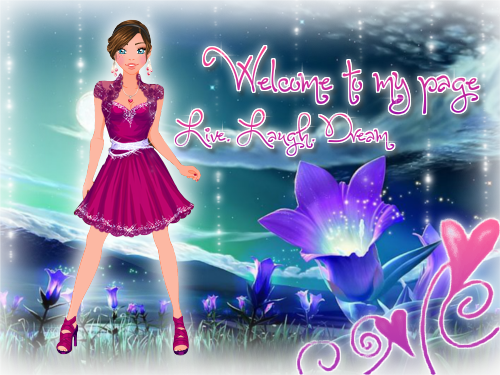 Can't wait for the holidayyyyyyyyy ^^
Thank you Sierradane for this amazing blingee
Thank you so much Spiderwick9 for the lovely poem
I Can Go Back

It might be I was carried away,
Or I listened to the wrong thing, you might say.

It could be I am lost,
Or maybe I didn't know the cost.

Am I me, or am I them,
What, how, why, where, and when?

I feel I should be happy when I'm sad,
And glad when I'm mad.

Am I who I'm told to be,
Or am I actually me?

Why do I see ugly where there is beauty,
Or is hating who I am simply my duty?

I know it can never be to late to go back,
But what was supposedly my happyness was just a hack.

I can go back to being me,
Just you wait and see.


I'm 15 years old, I live in Algeria I'm on my 2nd year of high school, I love science it's my favorite subject.
I love singing, in fact I write songs I don't know if they're that good but I write about things that happens with me or about how I feel. I'm a really nice persone I love to make friends and get to know new people
10 words that describe me (I got this from a personality quizz) :
Quiet, Calm, Kind, Friendly, Deepthinking, Daydreaming, Conservative, Thoughtful, Nice
and pleasent.
I'm a big fan of Justin Bieber, Miley Cyrus, Selena Gomez, Demi Lovato, and Taylor Swift (She inspired me to write songs)
My favorite band is: One Direction.
I like Shopping a lot I love to surff internet, go out with my friends and whatch soccer.
II love to take walks on the early mornings, I also love icecream and cakes
PS: I make the best lemon cake ever :) Yummyy!!
I also like to play video games.
I love watching some TV series such as: Pretty Little liars, 90210, The Vampires Dairies
Wizards of wavely place, Hannah Montana.... . ect
(I'll be posting my songs soon)

I'm exchanging Daily Votes with Dollz that I keep thiere names in a paper
If you want to exchange Dailies with me just send me a message or leave me a comment.

If you recieved votes from these Dollz, they are from me
All the gifts I recieved are posted on my alt doll (SILVER23) page
Thank you so much for all the lovely people who gave me gifts ^^

The awards I won on contests are posted at some of my ats dollz too
---
Now thanks for visiting me and taking the time to read my Who I am, come back anytime :)